Community Events
Welcome To Our New Events Page.
Medina Community Recreation Center Events!

Upcoming Events:
April:
Nerf Night Challenge!
Come show off your competitive side on April 16, 2021. A nerf challenge will take place at the Medina Rec fieldhouse from 6:00pm - 8:00pm and pizza will be provided. You are welcome to use your own nerf toy if you have one. Registration is required. We hope to see you there!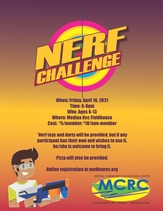 Earth Day Celebration!
Are you ready for some Spring fresh air after a long cold winter? Do you care about preserving our Earth for current and future generations? Come out to the MCRC on Saturday, April 24, 2021 at 9:00am as we celebrate our Earth starting with a volunteer park cleanup at Reagan Park. Registration required. Then at 12:00pm head to the main doors of the MCRC for a tree seedling giveaway, fire pit, light refreshments, and music! We hope to see you there!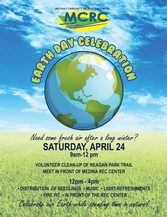 Dodgeball Night!
Dip, Dodge, Duck! Calling all youth ages 6-12. Do you have what it takes to be a dodgeball champion? Come to the Rec. Center on Friday, April 30, 2021 from 6:00pm-8:00pm for a dodgeball night of fun! Pizza will be provided. Registraton is required. We hope to see you there!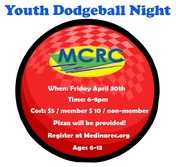 Stay Tuned For More Community Events!
2021 Glow Easter Egg Hunt!!