Fitness Classes & Personal Trainers
Being physically and mentally fit and healthy adds to your quality of life. MCRC offers fitness classes, fitness machines, free weights, a walking/jogging track and the assistance of certified fitness trainers to help you achieve and maintain your wellness. Variety of classes are conducted to meet any and every fitness level.

Multiple Enrollment Options Available

A Drop-In option allows a per class purchase on the day of class. $8/Member, $10/Non-member
Purchase a 5-class punch card that can be used for any land aerobics class and the Arthritis Aquatics class Punch cards do not expire. Member: $20, Non-member: $35
Flex Pass (see info below) includes unlimited entry for MCRC members and non-members into aerobics classes all month long. $48/members, $71/non-members. Full 4-month Session Flex Passes are available for $170/members, $255/non-members
PLEASE SEE THE CURRENT SCHEDULE FOR DESCRIPTIONS OF CURRENT CLASSES
CLASS DESCRIPTIONS
For current days and times for these classes, check the Program Brochure. (Note: not all classes will be listed in the current program brochure)
Cardio Circuit This results-oriented class will burn fat and simultaneously tone the entire body zooming in on the trouble zones. Burn and firm with bursts of cardio and strength training throughout. All equipment provided. Designed to be fun, high energy, and a real calorie burning class.
Deep Stretch & Meditation Indulge in restorative self-care with guided soft tissue release techniques and meditations for relaxation and healing.
HIIT High Intensity Interval Training - alternating short periods of intense anaerobic exercise with less-intense recovery periods. Speed up your metabolism and burn more calories. Serious reduction in total body fat. Improve your energy and endurance and reap the benefits long after your workout ends.
Indoor Cycling A 60-minute all-levels class. This ride has something for everyone with a mix of flat roads and hills combined with energy zone training (intervals, endurance, strength, speed and recovery), perceived exertion and/or heart rate training to maximize each rider's personal goals. Pedal to the beat of the music and find inspiration to fuel your power within. Bring water and a towel. Heart-rate monitor optional.
Indoor Cycling for Beginners: A 30-minute introductory class. Overview of proper bike setup, understanding resistance, cadence, rate of perceived exertion and basic cycling movements. Get lost in the rhythm of the music and build your aerobic efficiency as well as improve your strength and endurance in this beginner ride. Bring water and a towel.
Power Yoga A Hatha Yoga practice concentrating on physical and mental health using Yoga postures and breathing techniques. It will invigorate and challenge your practice while offering modifications as you grow into your form. A perfect midday addition to your routine. Blocks, mats, and straps are available.
Tai Chi Tai Chi is a slow, gentle range of motion activity that can be done standing or sitting to help increase balance, flexibility, and boost brain activity and the immune system. No additional equipment needed. Sign up today!
Total Interval Training This intense fast paced class moves from upper to lower body exercises intermixed with intervals of cardio and complete core work. Expect to be challenged. Equipment varies weekly. Class level: intermediate to advanced. Modifications will be shown.
Twilight Flow A moderately paced vinyasa practice. Welcome to participants of all levels of experience and skill.
Women on Weights No-nonsense class will target those trouble zones for Women! This class is ideal for metabolism boosting. All equipment provided and held in the aerobics room.
Yoga Do something special for yourself with this mental relaxation Yoga class. Unwind with gentle stretches and restorative breathing while learning relaxation techniques that will help you through the week. Create balance in your life and body through the development of strength, flexibility and posture. De-stress your mind and body during this 45 minute class - you owe it to yourself! Please wear comfortable clothing. Yoga mats provided.
Yoga Fit Gain strength and length in this fitness-focused yoga practice. Blends various styles of Hatha Yoga with traditional functional strength repetitions and holds. All levels welcome!
Zumba® features aerobic and interval training combined with easy to follow dance moves. This Latin inspired dance fitness class uses a variety of routines to sculpt and tone the entire body. You will burn serious fat and calories in class. Exercise doesn't have to feel like work, so let's get dancing!
AEROBICS GUIDELINES
Classes are noncompetitive, designed for men & women ages 15 & up. All shapes, sizes and fitness levels welcome.
Classes are set to tasteful music & include a warm-up, workout & cool-down.
Children may not attend class. Please utilize the Rascal Room.
Classes & instructors are subject to change based on enrollment.
All classes start & end on time.
All classes are first-come, first-serve. Limitations are based on room size and/or equipment and are left to the discretion of the instructor. Classes are subject to class minimums and maximums.
Keep yourself hydrated when exercising. Water bottles are permitted—no other food or drink is allowed.
Wear comfortable clothing and shoes with good support.
The program department reserves the right to temporarily or permanently cancel any classes based on low attendance or other reasons not specified.
AEROBICS DROP IN POLICY
Purchase per-class passes on the day of the class. Front Desk will issue class pass card to give to instructor.
Members: $8 Non-Members: $10
HOW DO I BECOME AN INSTRUCTOR?
The MCRC is always looking for certified quality instructors.
Please submit current resume, including valid certifications, along with schedule availabilty to the Progra Manager anytime.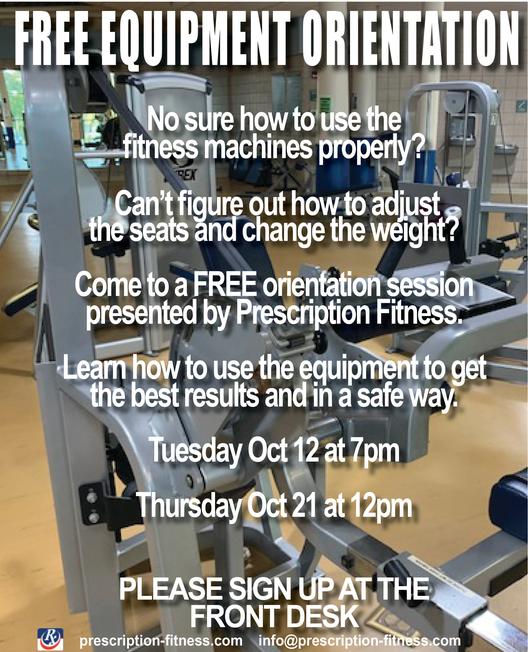 CERTIFIED PERSONAL TRAINERS
Certified Personal Trainers are available for any member interested in a more intensive, personalized, exercise programs. Our trainers make it their top priority to create a custom plan to help their clients reach their fitness goals. Whether you are new to exercise or a seasoned veteran, our personal trainers can guide you through safe, effective strength and cardio workouts to help you achieve your goals.
Interested in Personal Trainers? Checkout our Personal Trainer Profile Sheet.
Should you have any questions about the MCRC Personal Trainer Program, contact Steve Frantz.


Steve Frantz
Program Manager
330.721.6937
sfrantz@medinaoh.org