Fitness Classes & Personal Trainers
Being physically and mentally fit and healthy adds to your quality of life. The Medina Rec offers fitness classes, fitness machines, free weights, a walking/jogging track and the assistance of certified fitness trainers to help you achieve and maintain your wellness. Variety of classes are conducted to meet any and every fitness level.



Multiple Enrollment Options Available



A Drop-In option allows a per class purchase on the day of class. $8/Member, $10/Non-member
Purchase a 5-class punch card that can be used for any class on the schedule below. Punch cards do not expire. Member: $25, Non-member: $40
Flex Pass includes unlimited aerobics classes all month long. $48/members, $72/non-members.
The Rascal Room is our child watch. This is an opportunity to drop your child off while you workout or take a class. Rascal Room is open on Tuesdays 8am - 11am for ages 18 months - 7 years. The price is one punch of a class punch card which gets you 90 minutes of time.

Meet our amazing fitness instructors!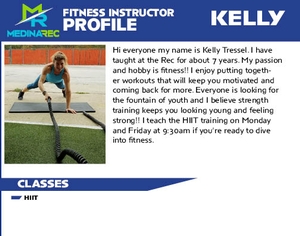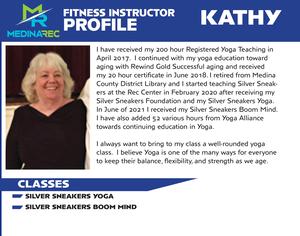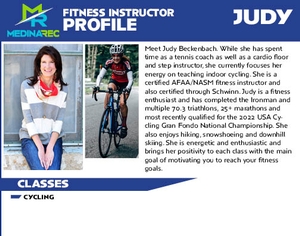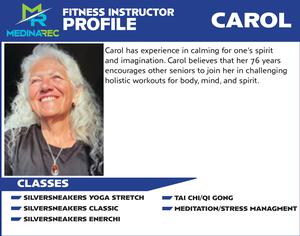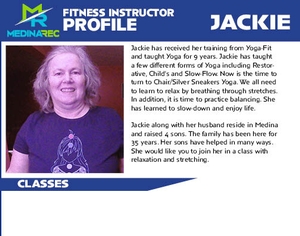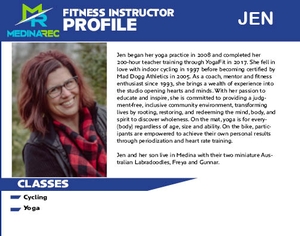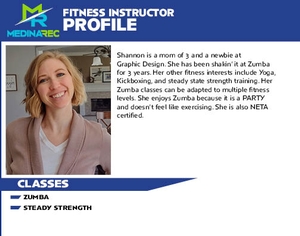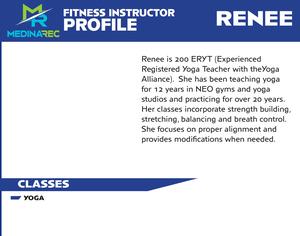 AEROBICS GUIDELINES
Classes are noncompetitive, designed for men & women ages 15 & up. All shapes, sizes and fitness levels welcome.
Classes are set to tasteful music & include a warm-up, workout & cool-down.
Children may not attend class.
Classes & instructors are subject to change based on enrollment.
All classes start & end on time.
All classes are first-come, first-serve. Limitations are based on room size and/or equipment and are left to the discretion of the instructor. Classes are subject to class minimums and maximums.
Keep yourself hydrated when exercising. Water bottles are permitted—no other food or drink is allowed.
Wear comfortable clothing and shoes with good support.
The program department reserves the right to temporarily or permanently cancel any classes based on low attendance or other reasons not specified.
CERTIFIED PERSONAL TRAINERS
Certified Personal Trainers are available for any member interested in a more intensive, personalized, exercise programs. Our trainers make it their top priority to create a custom plan to help their clients reach their fitness goals. Whether you are new to exercise or a seasoned veteran, our personal trainers can guide you through safe, effective strength and cardio workouts to help you achieve your goals.
Interested in Personal Trainers? Checkout our Personal Trainer Profile Sheet.
Should you have any questions about the Medina Rec Personal Trainer Program, contact Steve Frantz.


Steve Frantz
Program Manager
330.721.6937
sfrantz@medinaoh.org