Medina Community Recreation Center

MASKS ARE MANDATORY TO ENTER MEDINA REC CENTER

Medina Community Recreation Center Hours

Facility

Monday - Friday 6:00am - 8:00pm

Saturday - 8:00am - 4:00pm

Sunday - 10:00am - 4:00pm

Pools

Monday - Friday 7:00am - 6:00pm

Saturday 9:00am - 3:00pm

Learn to Swim Program will be in Leisure Pool 9am-1pm. Space will be limited

Sunday 10:00am - 3:00pm

Open Gym



Learn to Swim Program
If you were in Learn to Swim Classes when classes were cancelled last March 2020 due to Covid-19 and you did not request a refund, a credit was placed on your account for the remaining classes that were not held. Anyone who was in class when we stopped and has credit on their MCRC account will get to sign up first for the program. If you have an email on file, you will recieve and email about your registation date. Classes will be limited and classes size small due to Covid-19 and social distance guidelines. Click in link below for all information on classes, times, rules, and registation.
---
Spa is Now Open!
The Spa is the Leisure Pool is Now Open!!
Located in the Leisure Pool Area, Open when the Leisure Pool is Open
100-103 degrees Fahrenheit
Adults Only - 16 years and older
Max Capacity is 3
To follow Social Distance Guidelines, you will be required to sit in 1 of 3 Designated Area's Marked by

Yellow X

Masks are not required but are recommended

15 Minute Time Limit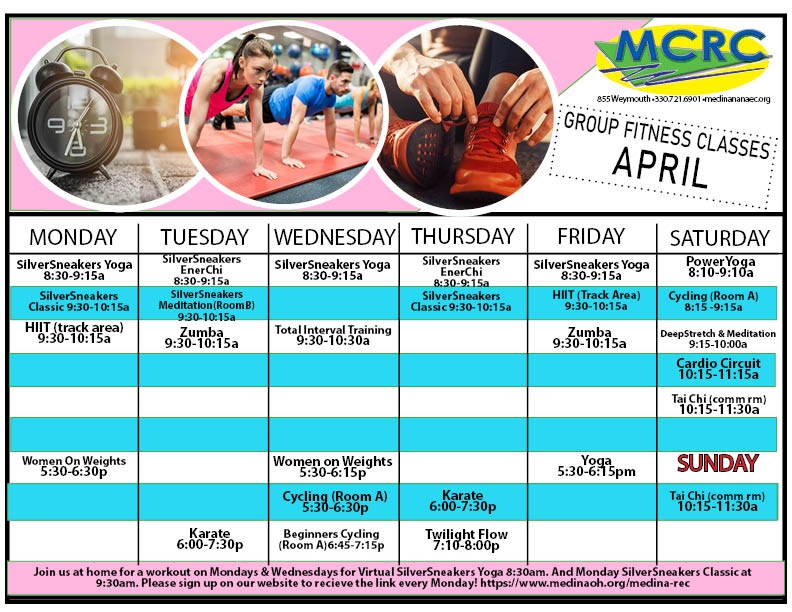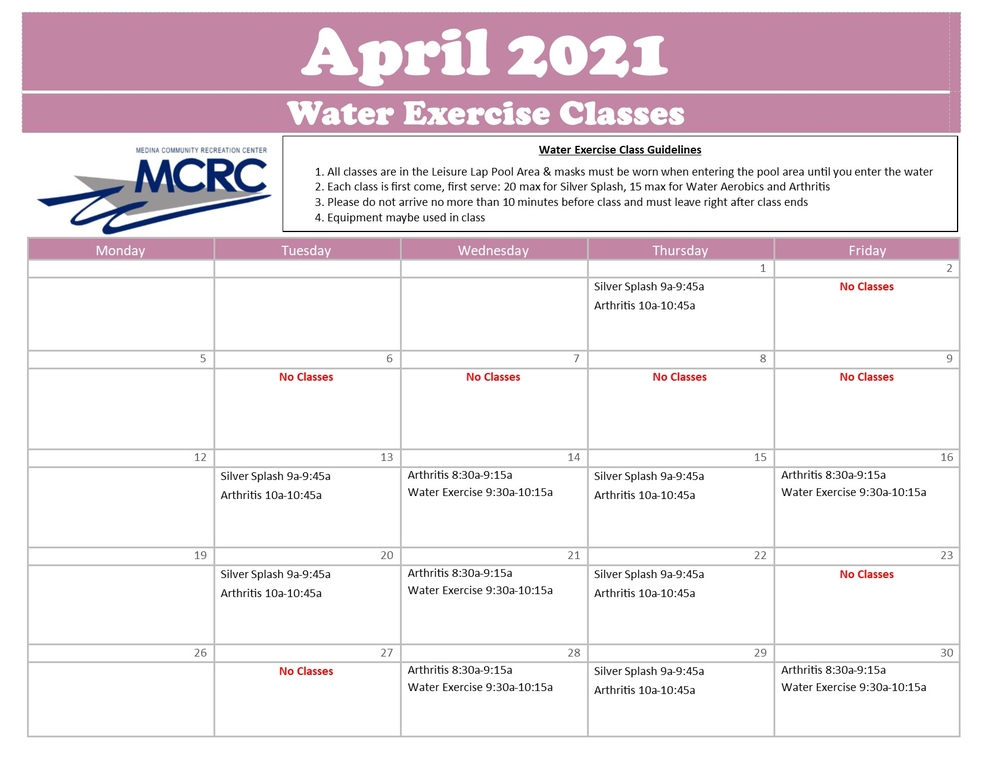 ---

NOW HIRING:

LIFEGUARDS

Medina Community Recreation Center is accepting applications for the position of Lifeguard. Currently looking for weekday opening shifts, 7am-12pm and Spring/Summer season to work at MCRC and Memorial Pool. Click here for the Employment Application and drop off the completed application at the Rec Center, attention Steve or email to srhein@medinaoh.org

Qualified applicants will be notified to set-up an interview as positions become available.

Employment applications are accepted year round and reviewed as positions become available.
The Medina Community Recreation Center provides 110,000 sq. ft of recreational space that offers everything you need to maintain a healthy and active life including:
Fitness Room & Free Weights
Leisure Pool
Competition Pool
Field House with 4 full size courts
Jogging/ Walking Track
Locker Rooms with Sauna
Rascal Room Child Activity Center
Fitness & Aerobic Classes
Seniors Programs
Toddler & Preschool Programs
Learn to Swim Classes
Swim Teams
Water Aerobics & Therapy Classes
Sports Leagues
Community Rooms and Facility Rentals
From early morning workouts, to late night pickup basketball games, the Medina Community Recreation Center is designed to fit your needs and schedule and offers a safe & fun environment that everyone in your family can enjoy.
FOR YOUR SAFETY, REMEMBER TO LOCK YOUR VEHICLES WHILE YOU'RE IN THE RECREATION CENTER.

Medina Community Recreation Center
855 Weymouth Rd., Medina OH
330-721-6900