Medina Recreation Center

MASKS ARE MANDATORY TO ENTER MEDINA REC CENTER

Medina Community Recreation Center Hours

Facility

Monday - Friday 6:00am - 8:00pm

Saturday - 8:00am - 4:00pm

Sunday - 10:00am - 4:00pm

Pools

Monday - Friday 7:00am - 6:00pm

Saturday 9:00am - 3:00pm

Learn to Swim Program will be in Leisure Pool 9am-1pm. Space will be limited

Sunday 10:00am - 3:00pm



Open Gym

Monday - Friday 6:00am - 2:00pm

( Pickleball 6:15am - 11am )

Saturday closed for Youth Basketball

Sunday 10:00am - 4:00pm

*Must bring your own ball & shoot around only
---
Great News!


The showers at the Medina Community Recreation Center are open!
We are making every effort to continue to reopen parts of the Rec Center while making sure everyone stays safe. Shower cleaning protocols are in place. Family changing room showers are also open. However after use please do your part in helping us keep MCRC clean and safe!
---



Learn to Swim Program
If you were in Learn to Swim Classes when classes were cancelled last March 2020 due to Covid-19 and you did not request a refund, a credit was placed on your account for the remaining classes that were not held. Anyone who was in class when we stopped and has credit on their MCRC account will get to sign up first for the program. If you have an email on file, you will recieve and email about your registation date. Classes will be limited and classes size small due to Covid-19 and social distance guidelines. Click in link below for all information on classes, times, rules, and registation.
---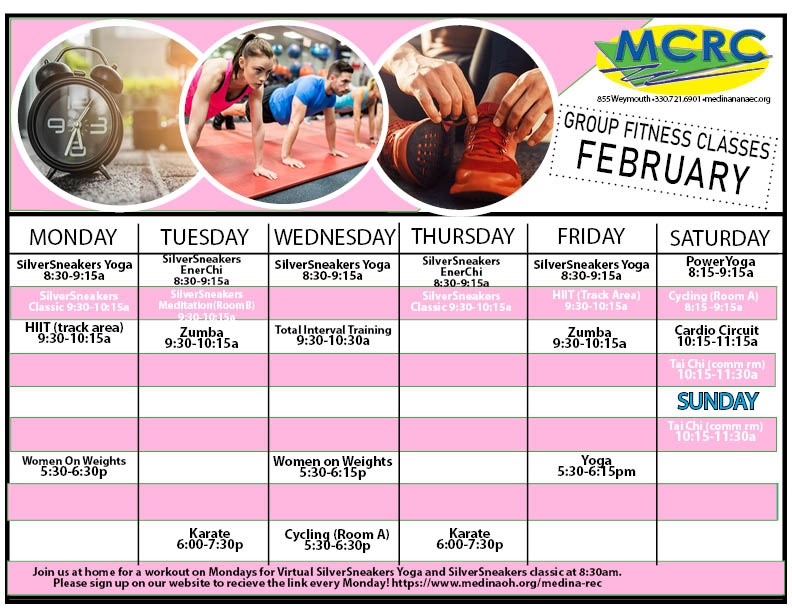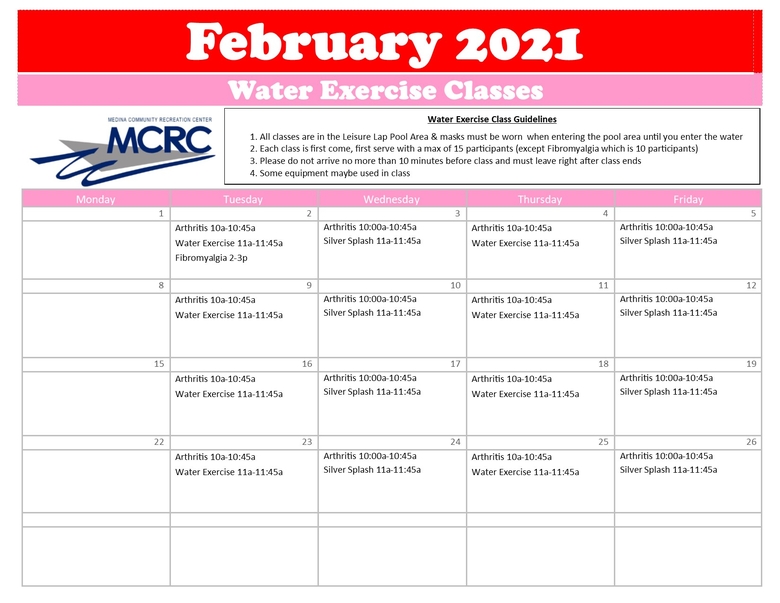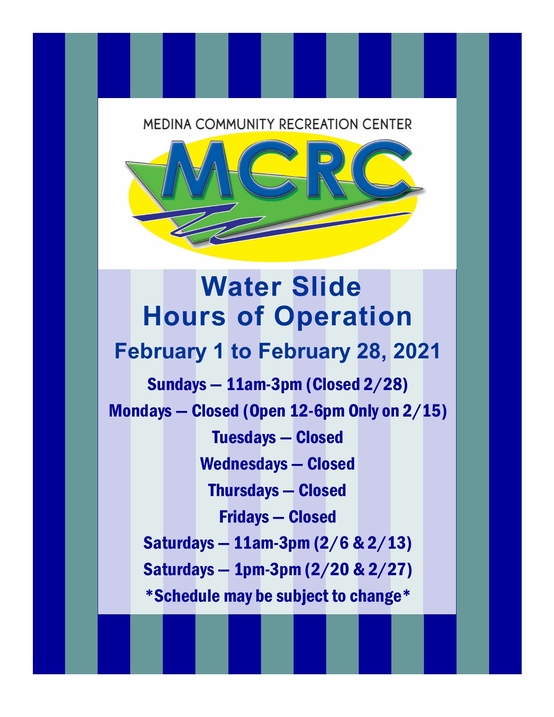 ---
The Medina Community Recreation Center provides 110,000 sq. ft of recreational space that offers everything you need to maintain a healthy and active life including:
Fitness Room & Free Weights
Leisure Pool
Competition Pool
Field House with 4 full size courts
Jogging/ Walking Track
Locker Rooms with Sauna
Rascal Room Child Activity Center
Fitness & Aerobic Classes
Seniors Programs
Toddler & Preschool Programs
Learn to Swim Classes
Swim Teams
Water Aerobics & Therapy Classes
Sports Leagues
Community Rooms and Facility Rentals
From early morning workouts, to late night pickup basketball games, the Medina Community Recreation Center is designed to fit your needs and schedule and offers a safe & fun environment that everyone in your family can enjoy.
FOR YOUR SAFETY, REMEMBER TO LOCK YOUR VEHICLES WHILE YOU'RE IN THE RECREATION CENTER.

Medina Community Recreation Center
855 Weymouth Rd., Medina OH
330-721-6900