Memorial Park Pool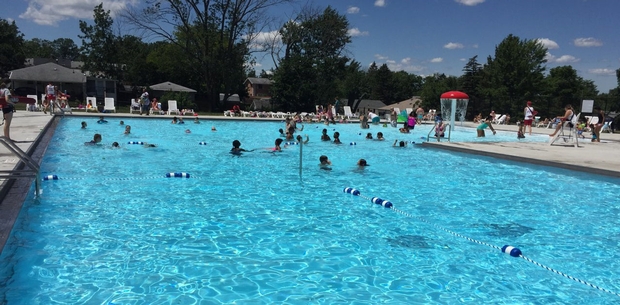 421 East Homestead Street, Medina, OH
330-722-7099
2021 Memorial Pool Information
MEMORIAL POOL FEATURES
Zero depth, shallow entry for children and special needs
Depth ranges from 0 inches-5 feet
Mushroom Water Feature
Double Flume Slide
Shaded Cabana Area with Picnic Tables
Lounge Chairs
Concession Stand
Family Changing Rooms are located right off the pool deck and are available for families with small children.
Bath House with Changing Areas and Showers
2021 DATES OF OPERATION
May 29 to August 15
August 21, 22, 28 & 29
September 4, 5, & 6
2021 HOURS
11am to 6pm
We will be open every day, Monday through Sunday, weather permitting
2021 POLICIES AND INFORMATION:
Due to COVID19, Maximum Capacity is currently 150 guests per session. Entry is based on first come first served basis of guests through the gates. No re-entry
Ages fifteen and under must be accompanied by an adult. There is a four child per adult ratio.
Deck & Lounge chairs will be available this year. Chairs will be be group in pairs in designated locations.
You may bring your own blankets or chairs.
Medina County residents only.
The concession stand will be open, but you may bring your own food and beverages. No glass containers or alcohol.
Men's and Women's restrooms and changing rooms will be open and showers will be available.
No groups larger than 10 may enter or congregate in their socially distanced deck / grass area.
Patrons must self-monitor themselves to the best of their ability while in the water to stay socially distanced and follow any instructions given by staff to disperse if necessary.
Staff reserves the right to ask individuals to leave with no refund when not following pool policies and rules.
Please do not approach lifeguards while on duty. They will be maskless to protect you.
Masks for patrons are not required but highly recommended.
SEASON PASSES FOR 2021
Information about Season Pass Coming Soon!
DAY PASSES for 2021
$7 per session for ages 3-59;
Age 2 & under are free
$4 per session for Seniors 60+
$4 per session for school lunch program families, letter required
5 visit Punch Card: $25
Payment can be made with cash or credit card. No checks.
2021 Programming (New!)
Information Coming Soon!
ID POLICY
All patrons age 16 (unless accompanied by an adult) and over will be required to show a photo ID when entering the facility. Children 15 and under must have a parent or guardian at the facility at all times. Daily passes will not be sold to persons who fail to present an acceptable photo ID. Acceptable ID's include: Driver's License, Temporary Driver Permit, State Identification Card, MCRC ID card, Student ID (for guests 16 years and younger), Passports, US Military ID.


WEATHER POLICY
Air temperature must reach 70 degrees for pool to open.
If lightning is seen or thunder is heard, pool deck must be cleared of all guests and belongings for 30 minutes. Timer will reset with each thunder or lightning. The guest will receive a stamp for re-entry within ten minutes of pool reopening.
OUTDOOR POOL AGE RESTRICTIONS
Children 7 and under must be directly supervised by an adult (18 years and older) in the water at all times.
Children ages 15 and under may use the pool unsupervised, however an adult must remain in the pool area at all times.
Ages fifteen and under must be accompanied by an adult for admission to pool area. There is a one adult per four children ratio.
Adults required to be in the water may not swim laps when supervising children.
OUTDOOR POOL RULES
Vulgar /abusive language will not be tolerated.
Picnic table and bench space will be available on a first come, first serve basis.
The Outdoor Pool is a smoke free area. Use of electronic cigarettes/vaping devices is strictly prohibited. Please use designated area outside the gate.
Swim diapers are required for all non-toilet trained patrons.
Only Coast Guard approved life jackets are permitted. No other floatation devices are permitted (noodles, rafts, water wings, etc.) We will have a limited number to borrow, each will be sanitized upon return.
For the water slide, minimum slider height is 48". All sliders must be able to pass the "deep end test" prior to use. User must be able to comfortably swim the width of the pool. New social distancing guidelines will apply, see signage and guards at slide.
Lifejackets, masks, goggles or glasses should not be worn while sliding.
Patrons must ride feet first, lying on your back or in a sitting position.
Users of the Outdoor Pool must comply with all posted rules and others given by the staff. Failure to comply with such instructions or with policies may result in disciplinary action or facility removal with no refunds.
Julie Worsdall
Pool Manager
330.721.6943
Meghan Engle
Pool Manager
330.721.6943