Water Exercise Classes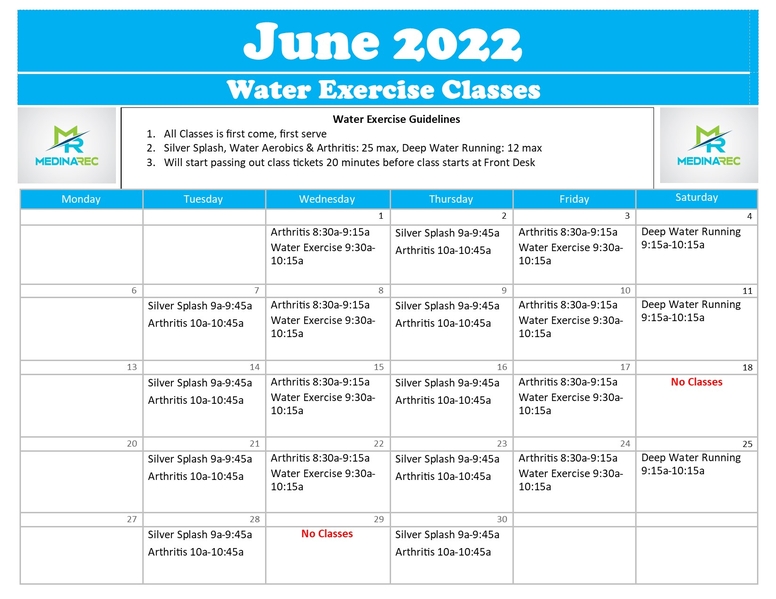 WATER AEROBICS
(25 Participants Max)
Instructor: Mary Beth Skunta
A great low to no impact resistance workout

Improve cardio endurance, increase strength and enhance flexibility, balance & stability

ARTHRITIS AQUATICS
(25 Participants Max)
Instructor: Mary Beth Skunta
Use the water to combine gentle movements and help decrease pain, stiffness and add range of motion.
SILVER SNEAKERS SPLASH CLASSES
(25 Participants Max)
Instructor: Mary Beth Skunta, a certified SilverSneakers Instructor
The SilverSneakers Splash class will activate your aqua urge for variety! SilverSneakers Splash offers LOTS of fun and shallow water moves to improve agility, flexibility and cardiovascular endurance. No swimming ability is required! A special SilverSneaker Splash kickboard is used to develop strength, balance and coordination.
SilverSneakers Splash classes are free water fitness classes for SilverSneakers members.
No swimming ability required

Fun class with friends

Develop strength & balance

Shallow water moves to improve flexibility & cardiovasular endurance

Not a SilverSneakers member?
$8(members) or $10(non members) daily drop in to take any SilverSneakers Splash Class.
DEEP WATE

R

RUNNING
(12 Participants Max)
Instructor: Debra Illes
Excellent cardio and strength work-out
Will teach proper form and proper use of equipment
No Impact Running
Float belts Provided
All Classes in Competition Pool
What are the benifits of Deep Water Running?
Ability to work at your own pace
Get a full body workout including arm, legs and all core stabilizer muscles
Excellent cardio workout
Hydrostatic pressure of water massages your muscles leading to faster recovery
No stress on joints
Burns lots of calories
No Impact
Improve VO2 Max
Maintain fitness while recovery from injury
PADDLE FITNESS
(6 Participants Max)
Instructor: Kelly Bailey
Paddle Fit invloves bodyweight/core-focused exercises on a paddle board in water
This is not a Stabd Up Paddle Board class
Classes are appropriate for all fitness levels
Participants should be in relatively good health with no current injuries or major health limitations
Classes are taught in Medina Recreation Leisure/Lap Pool during the Fall/Winter/Spring Months and Medina Municiple Pool during the Summer Months
All Question can be directed to instructor Kelly at kellybailey1980@gmail.com
Kelly is a IIN Cetified Health Coach and NPTI Certified Personal Trainier
Not a Drop in Class, Must register at Front Desk or at Medina Recreation Website
Click Here For Current Class Days and Times