Water Exercise Classes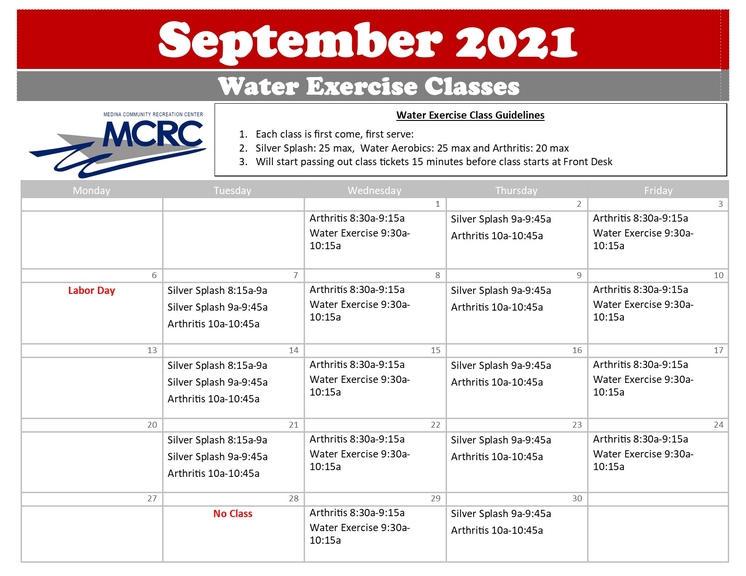 WATER AEROBICS
(25 Participants Max)
Instructor: Mary Beth Skunta
A great low to no impact resistance workout

Improve cardio endurance, increase strength and enhance flexibility, balance & stability

ARTHRITIS AQUATICS
(20 Participants Max)
Instructor: Mary Beth Skunta
Use the water to combine gentle movements and help decrease pain, stiffness and add range of motion.
SILVER SNEAKERS SPLASH CLASSES
(25 Participants Max)
The SilverSneakers Splash class will activate your aqua urge for variety! SilverSneakers Splash offers LOTS of fun and shallow water moves to improve agility, flexibility and cardiovascular endurance. No swimming ability is required! A special SilverSneaker Splash kickboard is used to develop strength, balance and coordination.
SilverSneakers Splash classes are free water fitness classes for SilverSneakers members.
No swimming ability required

Fun class with friends

Develop strength & balance

Shallow water moves to improve flexibility & cardiovasular endurance

Instructor: Mary Beth Skunta, a certified SilverSneakers Instructor.
Not a SilverSneakers member?
$8(members) or $10(non members) daily drop in to take any SilverSneakers Splash Class.
DEEP WATE

R

RUNNING -

Coming Soon
Instructor: Debra Illes
Excellent cardio and strength work-out
Will teach proper form and proper use of equipment
No Impact Running
WATER CLASSES BY MEDINA HOSPITAL
All Classes are Cancelled until Further Notice
Aquatic Exercise for Fibromyalgia
(10 Participants Max)
•Designed for people with fibromyalgia or arthritis
•Exercises improve joint flexibility and pain relief
•Swimming skills are not necessary.
•Tuesdays and Thursdays 2:00-3:00 pm
Fees: 5 Visit Punch Card: Member $20; Non-Member $35
Classes are held year round on a continuous basis in the MCRC Leisure Pool.
For more information leave a voice mail at 330-725-1000 ext# 3065