Reagan Park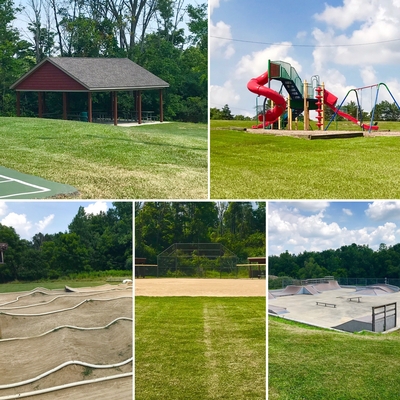 Entrance

On Weymouth Road

On East Reagan

Size

226 Acres

Amentities

Baseball Fields (6), Bill Dunn Football Field, Basketball Court (1), Basketball Courts,

1/10 - 1/8th scale Radio Controlled Car Track, Sledding Hills, Pavilions (2),

The Basketball Courts are currently OPEN.

RC Track is now OPEN. For an overhead video of the track, click here

Demolition of the Skate Park has begun. Anticipated completion is March 2024. To review survey responses, click Survey and Renderings

Multi - purpose Trails and Mountain Bike Trails.

Pavilion

Upper area: Size 27' x 22'; Seating capacity 35 - 45 people

Lower area: Size 40 x 36'; Seating capacity 65 - 75 people

Grills are available at both pavilions

Bike Trails

A total of 10.5 miles of mountain bike trails are available at Reagan and Huffman/Cunningham.

Fields. For trail information go to Medina Trails

Multi-Purpose Trais

Walking / Jogging / Biking Trails along Reagan Parkway and trhoughout the park

Restrooms

Permanent restroom located near ball fields and portable restrooms area

throughout the park during the season.