Community Outreach
The Medina Fire Department aims to provide the highest level of service to our residents. We believe that goes beyond responding to emergencies and it is our goal to be a resource to the community to provide you with relevant information to make our community a better and safer place. We will post updates and events here to keep our residents informed of ways the Fire Department is involved in the community.
Follow us on Facebook! To stay up to date with news from the Medina Fire Department, click this link to view our Facebook page where we post incident photos, safety messages, and upcoming events. Make sure to hit "like" on the page to see new posts on your news feed.
Medina Fire Department Facebook Page
Medina and Montville Townships Bridge Program: Are you a property owner in Medina Township or Montville Township who has a bridge or culvert underneath your driveway? The Medina Fire Department has started a new safety initiative to inspect private bridges and culverts to ensure they will handle the weight of a fire truck should we ever need to respond to your property in the event of an emergency. If they can, we will place a small sign which will indicate to firefighters it is safe to drive across. Without prior inspection and approval, responding fire trucks will stage on the road to ensure the bridge or culvert doesn't collapse as the truck crosses, potentially leading to damage to the truck and a slower response. Knowing the bridge or culvert is safe in advance will provide a faster and safer response to the property owner's emergency. This is a free service, contact Operations Captain Steve Ingersol at 330-725-1772 to schedule an inspection.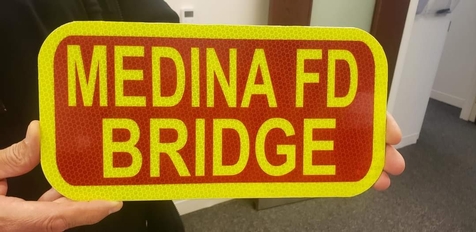 July 2021 Fire Hydrant Flushing Schedule: Every Summer, the City Water Department flushes the fire hydrants to ensure they are properly functioning and maintained. The Water Department will put up signs ahead of time to indicate when they will be coming to your area, but the complete schedule can be viewed by clicking the following link. Please note this schedule is subject to change based on weather and personnel availability.
July 2021 Fire Hydrant Flushing Schedule
Medina's 4th of July Fireworks:
Medina's Independence Day fireworks display will be held on SATURDAY, JULY 3rd. Fireworks will be launched after dark at Medina High School parking lot. The fireworks can be viewed from the sports fields around the High School and at Reagan Park. Rain Date is Monday, July 5th.
Medina's 4th of July Parade:
The Independence Day Parade will kick off at 4:00pm on SUNDAY JULY 4th. The parade will start at the High School and the route will go down East Liberty Street to the Square.